Experience The World's Greatest Wonders Without Leaving Your House
by N/A, 6 years ago |
4 min read
---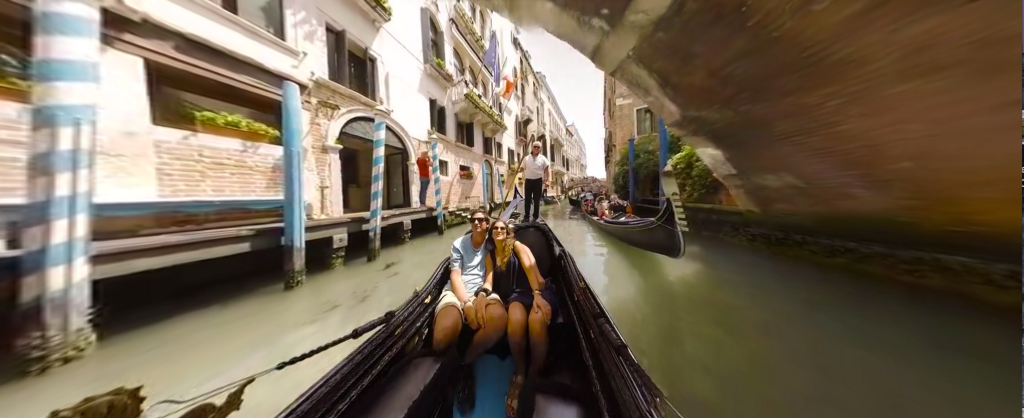 Virtual reality is about to change the way you travel.
Imagine if you could stand at the foot of the Pyramids of Giza, climb to the top of the Eiffel Tower and soar over the world's highest waterfall in Venezuela — all in the same day — with no jet lag. Now you can. Well, virtually, anyway.
Today, virtual reality (VR) is poised to transform the way we experience a lot of things — including gaming, movies and even pornography. In fact, these computer-generated simulations could potentially become a $150 billion industry by 2022. Now, the travel business is the latest sector to jump on the VR bandwagon. And it could completely transform the way we think about tourism.
First, you'll need a headset. The Google Cardboard costs just $7. You velcro your phone into the viewer and simply hold it up to your face. There are also plastic versions, like the Samsung VR, which costs $39. For the cadillac experience, snag an Oculus Rift ($499) or an HTC Vive ($799).
Now that you're geared up, it's time to choose your destination. To get you started, here are a few of my favorite apps, websites and Youtube-based tours that are well worth taking.
Holiday with Obama
I started my tour by visiting California's Yosemite National Park with National Geographic and President Barack Obama. Enjoy a perfect summer afternoon alongside Obama as he explains why it's important to preserve our national parks. There was one issue during my adventure, however: While I was free to look around, I couldn't zoom in or get closer to Obama. Virtual security?
Google Earth apps
If you're lucky enough to have a Rift or a Vive, you can freely travel the planet using the Google Earth VR computer app, which uses pictures captured by Google Earth's software (you can view six sample tours on their website). Another Rift app, VISO Places, also uses Google Earth images, and by utilizing voice control, you can effortlessly access the world on demand. Saying "Eiffel Tower" will immediately transport you to the top of this Paris landmark.
Smartphone apps
Even the cheaper cardboard or plastic headsets will take you places. Download JauntVR's smartphone app, or visit the list of videos on their website. I watched a kayaker go over a waterfall in Iceland. Then, I stood on the flight deck of the USS Harry Truman aircraft carrier. My German guide explains that this is "the most dangerous place on earth," as I watch fighter jets take off and return from bombing runs in the Middle East. Similar apps include Ascape and FreeFlyVR.
Video websites
With YouVisit, I flew in a helicopter over New York City. Its website-based library offers 360-degree video tours of cities, natural wonders and even universities. Then, I climbed 2,700 feet to the top of the stunning Yosemite Falls in the dead of winter — without getting frostbite or breaking a sweat.
Discovery VR offers a similar experience, giving you the chance to tour everything from shark-infested shipwrecks to the winding trails of Muir Woods. I took a leisurely gondola ride through the canals of Venice and explored a haunted castle.
A tour of the past
For a journey back in time, check out the Australian architectural startup Lithodomos VR. This company creates immersive VR experiences of the ancient world (like Paris, Rome and Athens) on a variety of platforms, including the Rift, Samsung VR and Google Cardboard. See them in the Ancient World in VR for free, or pay $1.99 to walk the plazas of Ancient Jerusalem. The vivid details are "thoroughly researched" and "archaeologically accurate," the company says. It's wicked cool. But there is one caveat — there are no people, so you might get lonely.
Airpano
This is the serious stuff. These Russian photographers stocked up on high-definition 4K cameras and aerial drones, then flew to the world's most amazing natural wonders to capture them in rich, 360-degree videos. Unlike other virtual tours, Airpano not only let me look in all directions, but actually zoom in to see the little details, too. Informative narrations explained what I was seeing along the way.
I flew over the edge of Venezuela's Angel Falls, the highest in the world, and soared 3,212 feet above the green expanse of Canaima National Park. It was utterly breathtaking.
The edge of space
In what it calls a world-first, SeekerVR put a 360 degree camera in a weather balloon. I rode along with it, until I reached the stratosphere. The Earth curved below me, lit by an impossibly brilliant sun in a pitch-black sky. The camera kept rolling until the temperatures of space destroyed it. Watch it. It's incredible.
✕
Do not show me this again