National Geographic Gets Thousands Of Photos For Its Contests. But THESE...Woah.
by N/A, 9 years ago |
2 min read
|

4120
National Geographic is holding their annual photo contest this month and it is, of course, as amazing as ever. The contest allows anyone to submit their work meaning you don't have to be a professional photographer to participate. The categories are People, Places and Nature. Last year National Geographic received over 7,000 photo entries from over 150 countries just to give you an idea of how big this contest is!
The rewards for winning the contest are pretty high which keeps almost all the entries serious and really competitive. Below are some of the photos already submitted, and they are all amazing, impressive work. Check them out and be sure to let us know what you think!
Check out The National Geographic website for more information on the photo contest.
---
Walking on Water.
"I was finishing up a photo shoot when a wild kangaroo appeared out of nowhere and bounded onto the lake, as if walking on water. This, along with the picturesque sunset combined to create an absolute visual treat!"
Searching for Love.
"Blue Ghost Fireflies in Brevard, North Carolina. Blue Ghost fireflies are unique because they stay lit and only hover about a foot off the ground."
Destroyed Homs.
"Birds fly over the destroyed houses in Khalidiya district in Homs, Syria. In the vast stillness of the destroyed city center of Homs, there are large areas where nothing moves. Then, suddenly, wind blows a ripped awning, or birds fly overhead."
The Lord Of The Ocean.
"Off the coast of Guadalupe Island, great white sharks gather to feed on sea lions. It is an ideal place to observe these majestic animals in their natural state."
Warming Up.
"This photo I capture in the early afternoon, the animal species of lemurs fly"
Bringing Home Breakfast.
"This osprey had just captured this fish and I was lucky enough to capture this dramatic shot as he took off with his wings in the angel position, clutching a fish in one talon, and making direct eye contact with me."
From the Sky.
"On the coast of Tenerife in the Canary Islands, we have quite the selection of affectionate green turtles (Chelonia mydas). I find myself devoting much time to these curious creatures..."
The Wave.
"I met a man at "The Wave". He was by himself and had a beacon for safety. It's not easy to go there for sure."
Sunrise Plaosan Temple. (Places)
"While in Indonesia shooting TV commercial one of our locations was this temple. Sun rose as the people worked in rice paddies."
Kings Valley Clouds.
"I walked out onto a rock outcrop looking over the Kings Valley near Mansfield, Victoria. As I watched the morning clouds slowly disperse they opened up a beautiful landscape below me allowing the sun's rays to penetrate through to the natural forest."
Sunward.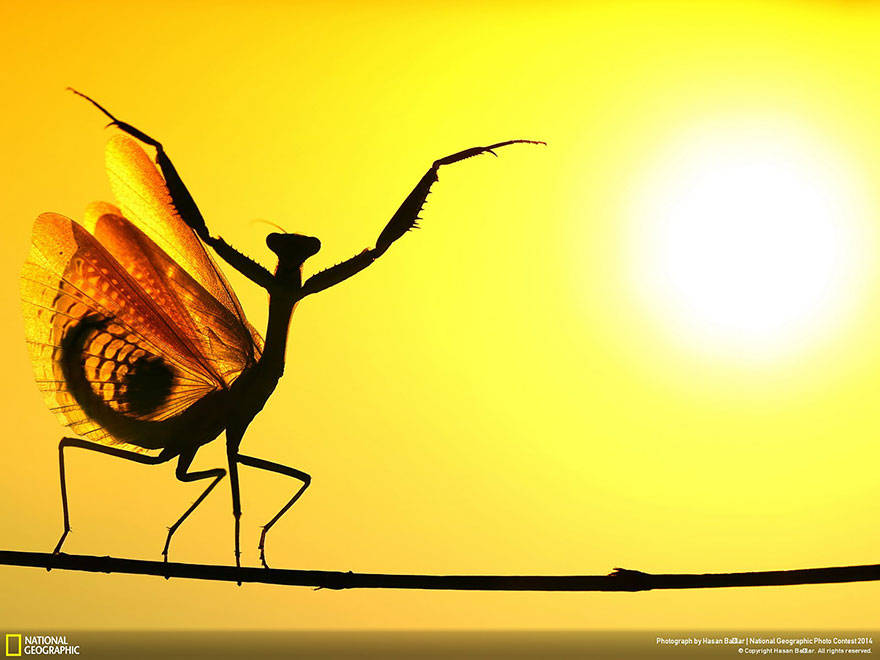 "When the Mediterrenean Mantis opened its wings, It seemed very impressive at the sunshine ..."
Above Big Sur.
"I'd gone to Big Sur to watch the gray whale migration from the cliffs, but it was too foggy to even see the water. I decided to hike up the Baronda Trail to see if I could get above the fog. This view was my reward."
Mexican Long Nosed Bat.
"Mexican Long Nosed Bat feeding on a nectar flower during the night at Elephant Head in Arizona. The photo was taken during the night with inferred triggers that set off the camera when the bats came to the flower to feed."
A Tree Dreaming.
"In the Strezlecki desert of Australia a flock of galahs replenish on the only small water avaliable at the base of this lonely tree.Its a rare photo opportunity to get such a clear and symetrical shot of these beautiful birds in flight..."
The Iguana's Cave.
"Unexpected underwater encounter with a Green Iguana. I was attempting to take some overunder sunset shots in a semi-submerged cave in Bonaire, when a Green Iguana swam toward my dome with an inquisitive doing"
Catch of the Decade.
"Can you guess what happened next?"
Mezmorized by Grace.
"This Pink and brilliant colored Flamingo was caught taking a mid-day break as she nuzzled herself within her feathers amongst the other birds. The beauty is captivating and there's a sense of piece and tranquility seen in her eyes."
✕
Do not show me this again