10 Odd Historical Superstitions That We Still Carry On Today. #3 Is So Weird
by N/A, 9 years ago |
1 min read
|

870
Some superstitions can be pretty ridiculous, but these common old wives' tales originated from real beliefs.
---
1. Evil lurks... in Brussels sprouts?!
It's common to cut a cross into a stalk of sprouts before cooking them so that they cook better, but it isn't done by all the time. That's because the belief actually comes from the belief that evil spirits lurked within the leaves of lettuce and sprouts.
2. Cutting the cake
The bride and groom cut the cake with his hand over hers because it was believed that, if she were to cut the cake herself, the marriage would be childless.
3. The Devil's Meat
In Britain and Scandinavia during the 1st Millenium AD, a communal feast to honor the Viking god Odin was a common practice. The church wanted to put an end to this celebration, so they deemed horse meat, the center piece of the celebration, to be cursed.
4. Tossing coins for good luck
People began tossing coins into fountains as offerings to water deities they believed lived there.
5. The evil eye
It has been believed for centuries that someone could cause malice on another with nothing more than a glance. To keep from being a victim to someone's evil glances, people would spit, carry iron, cross there fingers, wear a blue bead or the image of an
6. Knock on wood
In order to keep future plans protected from evil eyes or spirits, people knocked on sacred pieces of wood from ash, oak or hawthorne trees.
7. Under the mistletoe
Mistletoe was once hung over doors as a promise to guests that their host would not kill them, even if they were sworn enemies.
8. Triskaidekaphobia
Triskaidekaphobia is the fear of the number 13. It originates from ancient romans who believed it was a bad omen that brought death.
9. Holy stones
Keys used to be attached to stones that had natural holes in them in order to guard the lock and home from potential robberies. The combination of iron and stone was supposed to protect against bad luck.
10. Garter belt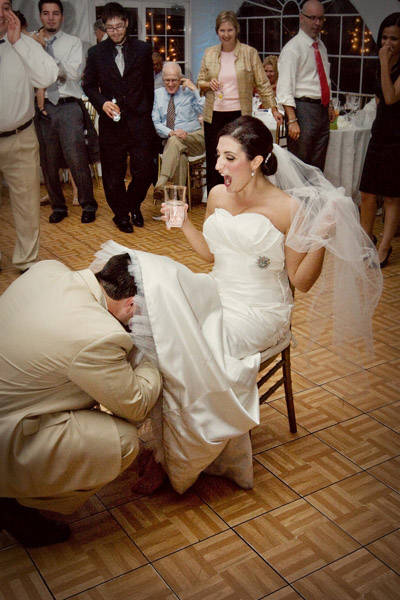 In medieval times, men fought for the brides garter to ensure that they'd be next to get married.
✕
Do not show me this again