22 Ways You Can Use Your Curling Iron To Its Fullest Potential
by N/A, 8 years ago |
4 min read
|

1075
Perfectly wavy hair is just a few tricks away.
---
1. Start by knowing the different types of curling irons.
You don't need them all. Just get the one that works best for your hair type, you feel comfortable using and will give you the look you want.
2. Watch your temperature. Higher degrees doesn't mean your hair will curl faster or last longer.
200 degrees is good for thin hair. Coarse hair can handle 200-300 degrees. Anywhere near 400 is dangerous territory that could result in burning your hair off.
3. Instead of unraveling your hair, pull the iron or wand out of the curl and hold it in place so the curl can set.
4. Another technique for getting your curls to set is to remove the iron and immediately pin your curls up.
5. Clamp your hair closer to the root instead of the end to avoid that awkward crimp that divides the straight part of your hair from the curls.
6. Your curls will last longer if you start at the roots.
7. For volume, curl your hair away from your face.
8. The first step to getting the curls you want is to dry your hair according to how you want your hair to look.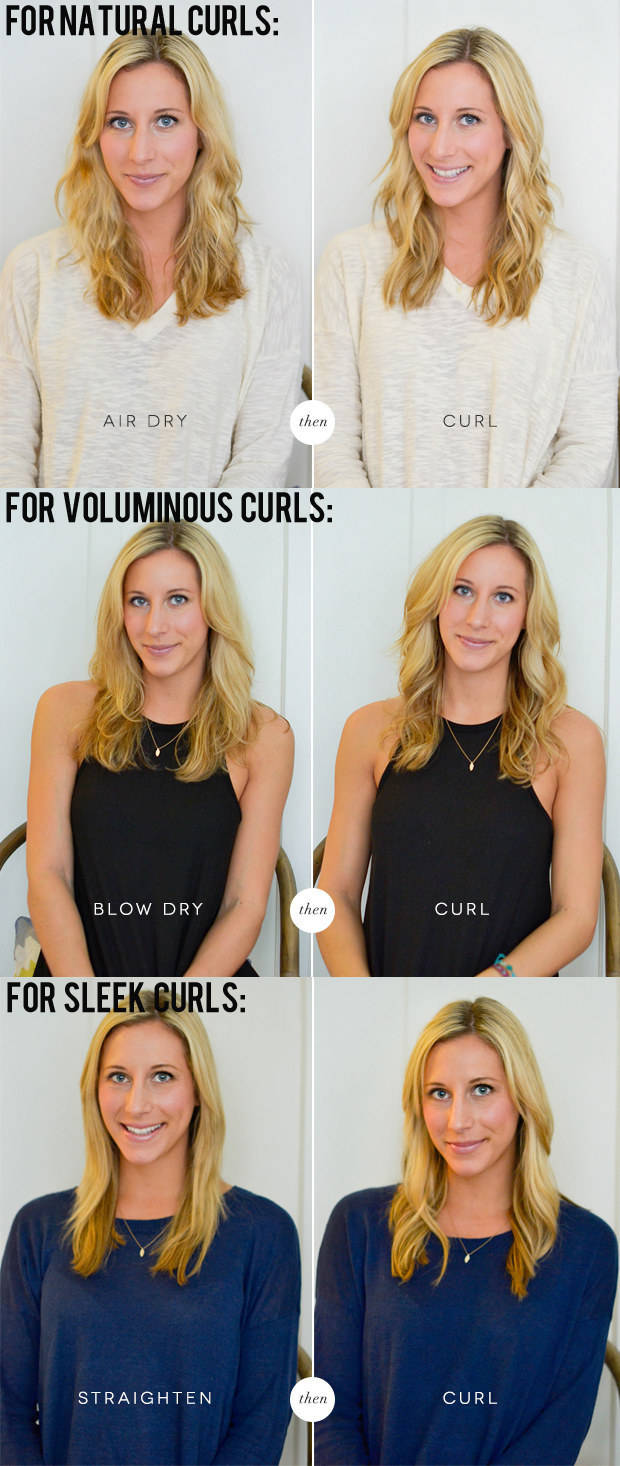 9. This trick will get your the perfect side sweep that you only ever see in magazines.
10. Clean your curling iron.
There's probably a lot of product build up on it. Warm water or rubbing alcohol should do the trick. Just make sure it's turned off while you're cleaning and that anything you use to clean dries before you use it again.
11. Curl your hair with the clip facing forward so it can glide through more easily.
12. If you have short hair, follow this guide for perfect bouncy curls.
13. Size matters when it comes to curling wands and irons.
Different sizes will give you different looks.
14. Curl your hair when it's already up to get a perfect curly ponytail.
15. Use this trick to create volume at the crown.
16. Running a hot styling device under cold water will NOT cool it down, but it will permanently damage the springs inside.
17. Twisting your hair into different textures will affect the look of your curls.
18. Hold your curling wand behind you head to avoid burning your face.
19. Make your own curling wand, by taking the clip off of your curling iron.
20. Holding your curling iron vertically will give you looser more natural curls.
21. Holding it horizontally with result in fuller, more bouncy curls.
22. Have patience. Beauty is work.
✕
Do not show me this again