12 Secrets From Amazon Warehouse Employees
by N/A, 8 years ago |
1 min read
|

4432
If you're ever wondered what it's really like behind the doors of the Amazon warehouse, now you can know.
---
They have quotas to meet.
The people who grab the items in your order are called "pickers" and their only responsibility is to fill yellow bins with items that are displayed on a scanner. The can pick as many as 120 items an hour.
The cafeteria is crazy.
One employee said that there were constant fights over who could use the microwave and that the food available for sale didn't taste all that great.
They have metal detectors and they hate them.
Every time they leave the floor they have to be scanned by metal detectors. This cuts down on the amount of time they have to eat at lunch.
Not everyone hates working there.
One employee says the job sucks because all warehouse work sucks, but the conditions are on par or better than working at other warehouses.
They walk a lot.
One warehouse in Baltimore covers 23 acres (1 million square feet)
They have to do group exercises.
Like actual exercise. This way their warmed up for the day they spend walking around a huge warehouse.
They know about the weird stuff you're ordering.
Apparently people like to buy a lot of life-sized Justin Bieber's from Amazon
"Problem solver" is a job at the warehouse.
If a package's weight is incorrect, a problem solver is brought over to inspect it.
They arrive and leave empty-handed.
Employees aren't allowed to bring any of their personal belongings into the warehouse. Only management can have their cellphones on them while on the floor.
They have a nurses office.
The warehouse nurse can't do much besides dispense aspirin and offer up some ice.
People who fake injuries or sickness get broom duty.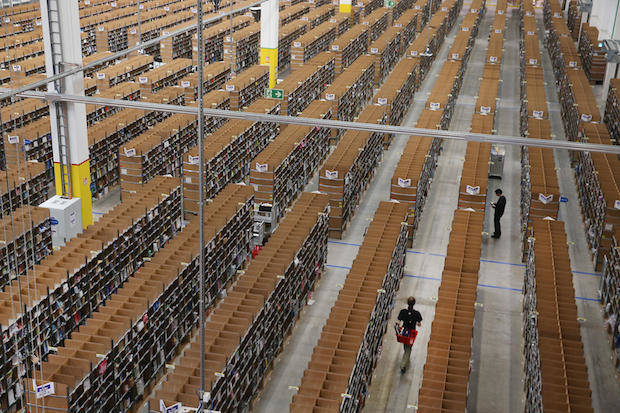 If the nurse can't find anything wrong with you, supervisors will give you an easy task like sweeping for the remainder of your shift.
They love bubble wrap as much as you do.
One employee said that the machine at her warehouse would often cut too much bubble wrap and the employees would play with it during the day.
✕
Do not show me this again