These 7 Unsolved Mysteries That Will Seriously Freak You Out
by N/A, 8 years ago |
1 min read
|

5009
Crime novels, TV shows and movies have long been a major part of our entertainment, but the one problem with them is their tendencey to wrap everything up very neatly by the end. Unfortunately for many people, this isn't always the case.
Unfortunately, there are plenty of mysteries that have never been solved, and because they are so old, probably never will be. Here are seven of the strangest ones.
---
SS Ourang Medan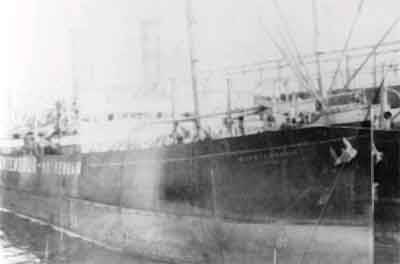 As the SS Ourang Medan was traveling through the Strait of Malacca in June of 1947, it began to send out a distress signal that said "All officers including captain are dead, lying in chartroom and bridge. Possibly whole crew dead." After a pause, the message continued, saying simply, "I die."
When the Silver Star, an American ship heard the message, they went off to investigate. Once they found the SS Ourang Medan, they found the entire crew on board to be dead. Allegedly, each person had an expression of fear on their face and their arms stretched out to reach something. The Silver Star hauled it back to port, until the bottom decks allegedly caught fire and they were forced to cut it loose. This has led some to question if the ship ever actually existed, or if it was a legend.
Caroline Walter
Caroline Walter was just 16 years old when she died in Freiburg, Germany in 1867. Her sister commissioned a sculptor to create a life-size sculpture for the grave. Since it was built, almost 148 years ago, someone has been placing the same bouquet of flowers under the arm.
The Sodder Children
A fire inside the Sodder family home on Christmas Eve 1945 woke the parents of nine children, and they were able to get four of them out of the house in time. Unfortunately, five more were left behind and died in the fire. In the aftermath however, no bodies were found. The house burned too quickly for their bodies to have been completely destroyed.
20 years after the fire, the Sodder's got a photo in the mail of Louis, one of the boys who died in the fire. On the back of the letter was written "Louis Sodder. I love brother Frankie. Ilil boys. A90132 or 35." There was no return address on the envelope, and it's still unclear where it came from.
Hinterkaifeck
In 1922 63-year-old Andreas Gruber, his wife Cazilia, their daughter Viktoria Gabriel, Viktoria's two children and their maid Maria Baumgartner were all killed in one evening in a small village not far from Munich. The murderer was never found.
The family believed there were "hauntings" happening around the property, with strange footprints appearing in the snow, and odd sounds coming from the attic. The only evidence the murderer left was the pickaxe used to kill them, and the fact that all the farm animals were fed.
YOGTZE-Fall
Gunther Stoll believed for years before his death in 1984 that "they" were after him, with no explanation as to who "they" were. He was with his wife the night of his death, and out of nowhere shouted "Jetzt geht mir ein Licht auf!" which translates to "Now I've got it!" and he wrote YOGTZE on a chair. He then got into a car and left.
Around 3 in the morning, he was found dead in his car in a ditch. He was completely naked, and an autopsy revealed he had been injured before the crash and was run over by another car in a different spot. Weirder still, it's still unclear what YOGTZE means.
Benedetto Supino
Benedetto Supino was a young boy in 1982 when he was reading a comic book when all of a sudden, it caught fire, with no explanation. There were also reports of fires starting in his bed when he slept. Scientists have not been able to figure out why it would have happened.
The Dylatov Pass Incident
When nine hikers decided to hit the slopes of the Russian Ural Mountains in 1959, they all ended up dead. Their bodies were found in a way that continues to confound investigators. The tent they were using was torn from the inside, and barefooted footprints were found trailing into the woods, where two bodies were found, wearing only their underwear.
Eventually, three more bodies were found in the snow between the camp and the location of the other two bodies. A few months later, the final four bodies were found in a ravine 75 meters away. Those two bodies were wearing clothing belonging to the other hikers.
✕
Do not show me this again