Can You Figure Out This Crazy Question Meant for Teenagers?
by N/A, 8 years ago |
2 min read
A nearly impossible logic question has been making its way across the internet after it was part of the Singapore and Asian Schools Math Olympiad. The competition is for teenagers, but the question has everyone stumped. 
---
Here's the question that is stumping the world. You tell us, what's the answer to this seemingly impossible question?
Luckily, Leigh Scheps of Buzz60 has the scoop on the question, and even the answer.
Still confused? So am I, but here's the reasoning behind it.
As the question states, Albert only knows the month and Bernard only knows the day. Albert also knew immediately that Bernard didn't know. 
Because of that we know that the answer cannot be a date that is only on there once. If the date was the 18th or the 19th, then Bernard would know the answer, since there's only one of each of those.
Since Albert only knows the month and is sure Bernard doesn't know when it is, we can infer that the month is not May or June.
Using that knowledge, we can eliminate all of May and June off the list
Bernard then says he didn't know the birthday at first, but then figured it out after Albert said something. How? He followed the logic that Albert was following and was able to eliminate May or June himself.
Then, since Bernard says he knows, and he was only told the date, we can eliminate July 14 and August 14, since it has to be a unique date.
So we then eliminate both of those days...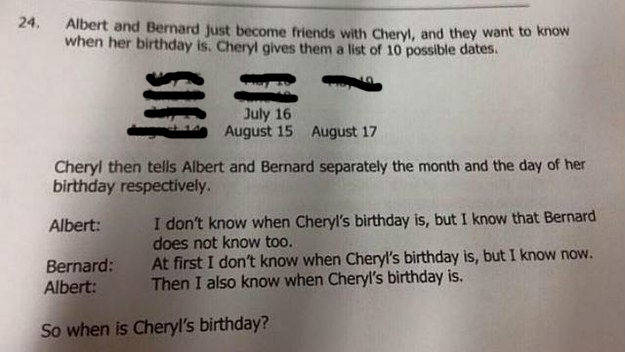 Since Albert suddenly knew the answer after Bernard says he didn't know it's easy to figure out the answer from here. He knows it's one of three days, but he was only told the month. If he had been told August, it would be impossible for him to know what the birthday was, since there were two options in August.
So of course, Cheryl's birthday is on July 16!
Next time Cheryl, just tell people when your birthday is...
✕
Do not show me this again