19 Drinks You Can Order At Starbucks That Aren't Exclusively Listed On The Menu
by N/A, 8 years ago |
1 min read
If you can't get enough of Starbucks, you might need to use these secret menu items to add some variety to your coffee addiction. 
---
1. Peach Ring Tea
Order half a cup of Valencia Orange Refresher and have your barista add peach syrup for a sweet summer sip. 
2. Banana Chocolate Chip Frappuccino
A vanilla bean frappuccino blended with java chips and a banana. 
3. S'Mores Frappuccino
This frap is getting a limited release in stores until the April 28th. The base can either be a Java Chip Frappuccino or a Double Chocolate Chip Frap. Toffee nut syrup, cinnamon dolce syrup and whipped cream are blended in.
4. Ferrero Rocher Frap
Order a chocolate chip frap and ask for hazelnut and mocha syrup to be blended into it. 
5. Warm Sugar Cookie
Order a white hot chocolate with hazelnut and vanilla syrup. 
6. Fruity Pebbles Frappuccino
Get all of Starbucks' fruity flavors by ordering a Strawberries and Cream frap and adding raspberry, vanilla and classic syrup. 
7. Caramel Popcorn Frappuccino
Order a Toffee Nut Frap and top it with sea salt. 
8. Teddy Graham Frappuccino
Order a coffee frap, with honey, cinnamon dolce syrup and a pump of vanilla. 
9. Pumpkin Hot Chocolate
A regular hot chocolate with pumpkin syrup. 
10. Neapolitan Frappuccino
Get all three of your favorite flavors by ordering a strawberries and creme frap, with java chips and mocha syrup. 
11. Cotton Candy Frappuccino
Cool down with a vanilla frap with two pumps of raspberry syrup. 
12. Blackberry Cobbler Frappuccino
A Vanilla Bean Frap with mocha syrup added and freeze dried blackberries blended in. 
13. Red Velvet Frappuccino
Get half a white chocolate mocha, half mocha frap and have them blended with raspberry syrup. 
14. Candy Cane Frappuccino
Order a Vanilla Bean Frap with peppermint syrup. 
15. Cake Batter Frappuccino
Blend a Vanilla Bean Frap with hazelnut syrup. 
16. Iced Raspberry Latte
Order and iced latte and ask to have raspberry syrup substituted. 
17. Mint Chocolate Frappuccino
A green tea frap with peppermint syrup and java chips. 
18. Harry Potter's Butterbeer
Order a Creme Frap and ask for caramel syrup, toffee syrup and caramel drizzle.
19. Cha Cha Latte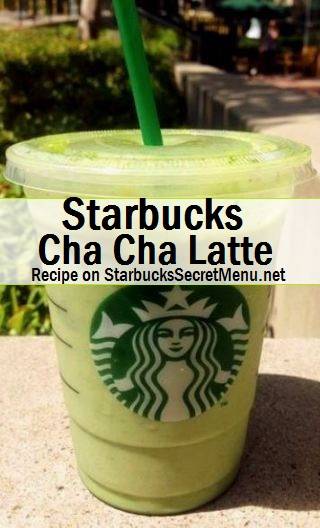 Add chai syrup to a green tea latte. 
✕
Do not show me this again