These Amazing Bridges From Across the Globe Are Artful Architectural Wonders
by N/A, 8 years ago |
2 min read
If you don't have a fear of bridges, you'll definitely want to see these incredible few from around the world.
---
1. Ponte Vecchio - Florence, Italy
There are merchant shops built all across this bridge. 
2. High Trestle Trail Bridge - Mardid, Iowa
This 25 mile long bridge crosses 4 counties. 
3. Bixby Creek Bridge - Big Sur, California,
This cost of this bridge came to $199,861 and it was actually constructed under budget. 
4. Chengyang Bridge - Chengyang, Sanjiang County, China
This bridge built in 1912 has three floors, 19 verandas and 5 pavilions. 
5. Royal Gorge Bridge - Cañon City, Colorado
This is the highest suspension bridge in the U.S.
6. Pedestrian Peace Bridge - Calgary, Alberta, Canada
This bridge opened in 2012 and crosses over the Bow River.
7. Lupu Bridge - Shanghai, China
This is the second largest steel arch bridge in the world.
8. Loopgraafbrug - Forte de Roovere, Netherlands
Also called The Moses Bridge, this bridge was designed to fall in line with the water and isn't visible from far away.
9. Zhivopisny Bridge - Moscow, Russia
This is the tallest bridge in Europe and houses a large disc that was meant to be restaurant. 
10. Landwasser Viaduct - Schmitten and Filisur, Switzerland
This limestone railroad crossing was constructed between 1901 and 1902.
11. Vasco da Gama Bridge - Lisbon, Portugal
This 11 mile-long bridge is one of the longest in the world. 
12. Langkawi Sky Bridge - Pulau Langkawi, Malaysia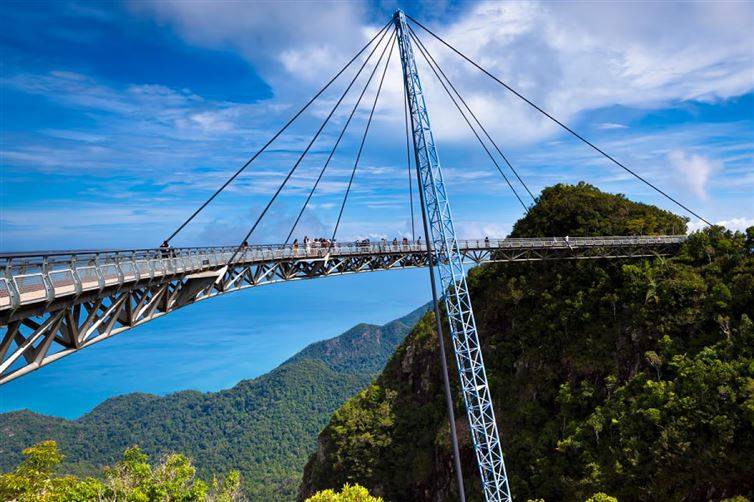 Interested visitors take stairs and a gondola to get to the bridge for views they can't get from anywhere else. 
13. Ponte di Rialto - Venice, Italy
This stone arch pedestrian bridge was built in 1588.
14. Confederation Bridge - Prince Edward Island, Canada
This bridge spans eight miles. 
15. Millau Viaduct - Millau, France
This bridge is one of the tallest in the world and measures at 1,125 feet tall. 
16. Storseisundet Bridge - Møre og Romsdal, Norway
This is also called The Bridge to Nowhere because it appears to drop off into nothing in certain places. 
17. Siosepol Bridge - Isfahan, Iran
Its also called The Bridge of 33 Arches.
18. Infinity Bridge - Stockton-On-Tees, England
This bridge got its name because of the reflection it makes on the water. 
19. The Helix Bridge - Singapore
The bridge was designed to mimic the shape and structure of DNA strands.
20. Murinsel "Island in the Mur" - Graz, Austria
This is actually a man-made island with an amphitheatre, playground and cafe.
21. Root Bridges of Cherrapunji - India
This bridge was constructed by nature by roots near this river bank in India.
✕
Do not show me this again