16 Drunk People Who Should Consider Getting New Friends
by N/A, 8 years ago |
2 min read
Two rules of thumb when drinking: 1. Know your limits.  2. Don't fall asleep first. If you do, do it somewhere hidden, or they will come for you.
---
1. Class 1 Felony: Premature Drunkocide
2. This is so good they should've tried hanging him on the wall.
3. Look ma! No hands!!!
4. In their defense, he did say he "wished he was a transformer" numerous times.
5. Is that Ricky from Trailer Park Boys??
6. Points for creativity on the nipple and belly button usage.
7. Really hoping his pants were already down...disturbingly though, that's probably pretty unlikely.
8. Drunk Jenga.
9. To make his hangover even worse...
10. Suffice it to say, his interview later that day didn't go well.
11. Merry Christmas drunk-ass.
12. He was cold, so like any good friend, they helped him out.
13. Despite it being obscene, the shading and everything is terrific.
14. Somehow, he manages to stay classy even when he's blackout drunk.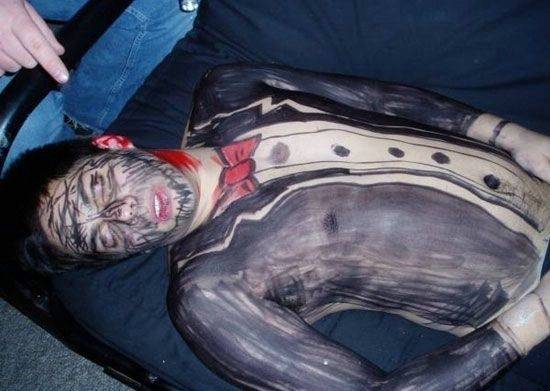 15. This is pretty much just a Snuggie for drunk people.
16. Don't worry. In a few weeks, he'll have a pair of beautiful wings.
✕
Do not show me this again