This Woman is the 11th Bride in Her Family to Wear Her Great Great Grandmother's Dress
by N/A, 8 years ago |
3 min read
The gorgeous heirloom wedding dress has been passed down in this bride's family for over a century.
---
Meet Abby Kingston. When she got engaged to her fiancé, Jason Curtis, she didn't have to try on a thousand wedding dresses to find the perfect one.
For the past 70 years, the women in Abby's family have all worn the same wedding dress.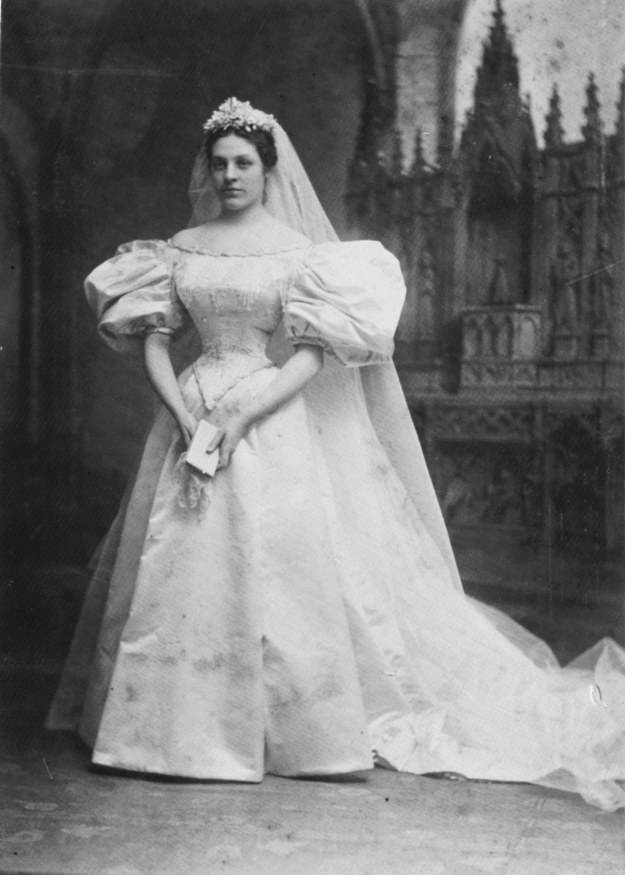 Abby's great-great grandmother, Mary Lowry Warren, first wore the dress at her 1895 wedding.

Kingston laid eyes on the dress when she was just eight years old. 
The tradition took 50 years to get started, since Mary's daughters refused to wear the dress!
Abby's grandmother was the first to re-wear the gown, and then Abby's mother.
Amazingly enough, over the years the dress remained mostly untouched.
Kingston believes 90-95% of the wedding dress she will wear on October 17 is original.
The most noticeable change to the dress is the shortening of the cathedral-length train.
"Everyone kept cutting away and cutting away at it, especially in the '80s," Abby told BuzzFeed Life. "Now it's in style in that it's tea length, but it was never meant for that."
The bodice has been altered too, as the original was made to fit Mary's 18-inch waist.
The seamstress also added a satin panel to the dress.
Lace has also been added to cover damage.
Check out all the lace-detailing at the bottom!
The brides have been rocking the dress and looking amazing!
Pictured above is Abby's mother, Leslie Kingston, on her August 6, 1977 wedding.
Abby's mom tracked down the dress at her great-aunt's house in Vermont after it had been stashed away for 24 years.
The dress was brown when Abby and her mother got it, since it had only been cleaned once.
Abby first laid eyes on the dress in person at her aunt Ann Ogden's 1991 wedding.
Instead of wearing the altered version, Abby and her mom agreed to restore the dress to its original state.
An experienced vintage dressmaker restored the dress to Abby's vision -- it took 200 hours.
Five dress fittings and six months later, Abby stepped into the gorgeous gown, calling it "very surreal."
"At the same time, I felt like Cinderella," she said. "The sleeves were in rags, and I had my fairy godmother make it back into this beautiful dress. I never imagined that I would ever put that dress on, and I feel like it fits perfectly."
Abby's mom will be the only other person in the family at her wedding to have worn the dress.
Abby does plan to show photos of the previous brides wearing the dress. There's even been some interest from other members of her family to wear it next!
✕
Do not show me this again