10 "Fries Before Guys" Items To Peruse While Eating Fries And Not Checking Tinder
by N/A, 8 years ago |
2 min read
Because fries before guys, ALWAYS.
---
1. This amazing throw pillow will remind you of where your priorities stand.
2. This mouthwatering phone case will also remind you of what's important.
3. Bundle up in this cozy sweatshirt, which is way more snuggly than any guy out there anyway.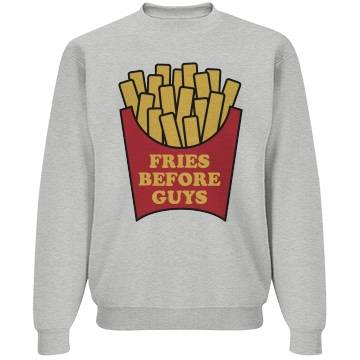 4. This clock will remind you it's ALWAYS French fry o'clock.
5. Get this genius notebook to write down all the reasons fries are better than guys.
6. This ah-dorable crop top clearly gets your message across.
7. These pajama sets are pretty much the best thing ever invented.
8. Advertise your love for french fries with this tote bag.
9. Show you're serious about your dedication to fries by drinking out of this boss mug.
10. And this amazing hamburger/french fry PJ set will complete your life.
✕
Do not show me this again