These 20 Tips Will Help You Save Time And Money This Thanksgiving
by N/A, 8 years ago |
3 min read
This guide will help you become the hostess with the mostest. 
---
Decor
1. Use kraft paper as a table runner.
Cleanup will be so much easier, since you can just throw it away and you can make "place cards" by writing everyone's name on the running using calligraphy pens. 
2. Designate an area for the dessert table, where everyone can show off their sweet creations. Decorate with a neutral color palette so the colorful dishes can take center stage.
3. Get dollar store pumpkins and turn them into candle holders by cutting out the middles with an x-acto knife.
4. Use gold leaves as place cards.
5. Make it a girly affair with a bright pink backdrop that's perfect for photos.
6. Try a monochromatic tablescape for a super chic look.
7. Decorate your front porch, so everyone knows that they're at the right place.
Hosting
8. Set up your table outside to enjoy the last bits of fall weather.
9. Set up a self-service bar with friend favorites so everyone can enjoy.
10. Make sure you have all of these items before you start your friendsgiving day prep.
11. Time everything out perfectly, so no one is left waiting and hungry.
12. Use this serving guide to get all the portions right.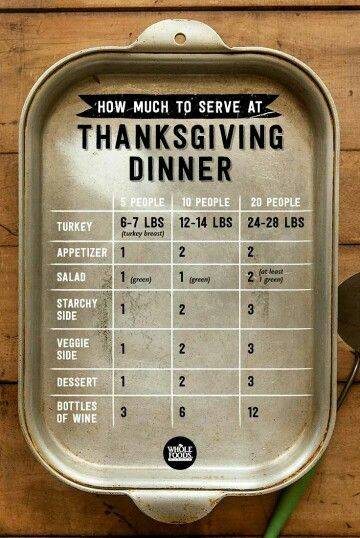 13. Set up a super cute pumpkin tic tac toe board.
It will pull double duty as decor and a fun way for guests to get to know each other. 
14. Have leftover bags ready to go.
Food
15. Make an adorable veggie platter in the shape of a turkey.
16. Make a signature drink.
17. Make as many courses as you can in a crock pot to save time and effort.
18. Set up a mini dessert bar for guilt-free indulgence.
19. Make small portions of the side dishes that you know will be crowd favorites.
20. Make a hearty one-pot entree that everyone will enjoy.
It'll be easy to make and clean up.
✕
Do not show me this again