This Guy Spent 10 Months on the Road Visiting Every US State. HIs Experiences Are Amazing
by N/A, 8 years ago |
7 min read
"You don't know if you don't go" 
---
This is California-native and avid US traveler, Jay Zantos.
But rather than jet off for a Euro trip, Jay decided to start with "his own backyard." 
He recently returned from the journey of a lifetime.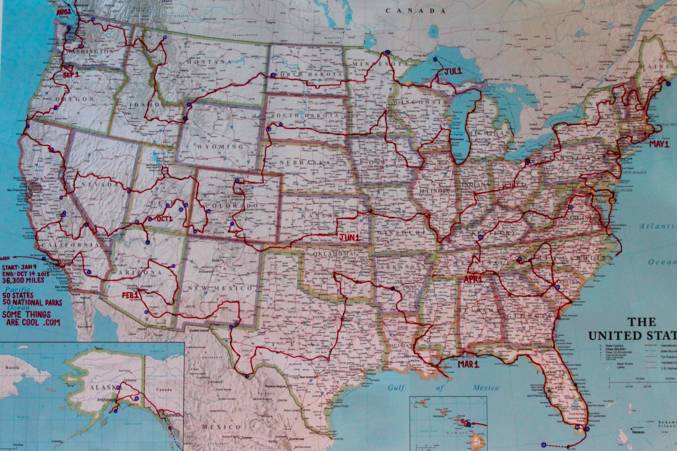 "This is my country and my home. People have certain perceptions about the United States, and before I could have an honest opinion, I had to go see for myself," Jay explained of his motivations to go on an American road trip. 
Jay drove 36,300 miles to all 50 U.S. states, and all 50 National Parks in one epic 10-month road trip.
His original plan under-estimated just about every aspect (8 vs. 10 months, 25,000 vs. 36,300 miles, $10-15K vs. $20K) but he enjoyed every minute of his once-in-a-lifetime journey.
He traveled in his Element SUV packed with all the essentials.
Why? "Of course it's a combination of reasons – adventure, bravado, attention, experience, curiosity, confusion, identity, fear, and just for laughs."
He gathered keepsake flags from each state to amass quite the collection.
Jay also kept a blog detailing his adventures throughout his journey and even sent postcards to interested fans following his journey.
Read about all the details here. 
On his trip, he experienced some beautiful sights...
"I hiked up volcanoes in Hawaii, Washington, and California, and down into caves in New Mexico, Kentucky, and Idaho. I stood under pouring rain at the confluence of the Mississippi and Ohio Rivers. I stood under gnawing heat at the confluence of the Colorado and Green Rivers."
Like Niagra Falls
"I experienced the long standing spectacle of Niagara Falls, The Grand Canyon, and Old Faithful. I admired Redwoods, Sequoias, and Bristlecone pines, respectfully the tallest, largest, and oldest trees in the world."
And was able to attend some amazing events.
"I paid homage to the Rock and Roll Hall of Fame, Kennedy Space Center, and the immigrant intake building on Ellis Island. I visited George Washington's birthplace and Martin Luther King's tomb."
He even saw Diplomat winning the 2015 Carolina Cup.
"I saw horses race at the Carolina Cup and cars race at the Indy 500. I camped out at a mud bog rally in Florida and a music festival in Michigan."

Along his journey he learned a lot about himself, his country and some very valuable traveling tips.
He recommends public libraries for the best Wi-Fi, National Parks for prime camping, and Wal-mart parking lots in a pinch. 
And while Jay plans to continue traveling, he's taking a bit of a break to re-fuel and re-finance.
✕
Do not show me this again