28 Delicious, Fast, And Easy Breakfast Recipes To Start Your Day. I Can't Wait To Try #8
by N/A, 9 years ago |
2 min read
|

976
Breakfast is the most important meal of the day. You have to start it off right! With these recipes you'll get everything--health benefits, super quick and easy preparation, and most importantly, they're all absolutely DELICIOUS.
---
1. Mini ham and cheese quinoa cups
Deliciousness of ham and cheese + nutritional benefits of quinoa = morning magic
2. Ricotta & honey sandwich
Have YOU ever had something with ricotta you didn't like? ...Me, either!
3. Frittata
Very paleo and VERY easy to make.
4. Morning muffins
Muffins with a healthy twist... how can you go wrong?
5. Tofu & greens scramble wrap
Best part of these? They're super freezer friendly... so stock up at the beginning of the week!
6. Apple peanut butter sandwich
Gluten free, carb free, but heavy on the awesome.
7. The 'I don't have time for breakfast' make ahead of time Oatmeal
When there just aren't enough hours in the day, this recipe should be your go-to.
8. Cranberry harvest breakfast cookies
Cookies for breakfast! And with an ingredient list that will actually make you GLAD you ate them.
9. Breakfast popcicles
They're POPCICLES. How can you get any more fun!?
10. Mocha banana breakfast smoothie
Because let's face it--we all need a little caffeine boost once in a while (or all the time).
11. Quinoa granola bars
You can never have enough granola bar recipes. Trust me.
12. Kale & sweet potato breakfast burrito
With not one but TWO super foods here (kale and quinoa) this recipe is seriously difficult to top.
13. Strawberry granola wrap
Strawberries add a whole bunch of Vitamin C to these incredible wraps (pro-tip: elitists may want to sub in goat cheese for the cream cheese).
14. Oats Apple Nut Crumble
15. Banana peanut butter chia seed pudding
Another phenomenal way to slip some chia seeds into your diet.
16. Peanut butter & berry power wrap
The recipe is great but this really gives you a pretty open canvas to work with. Throw whatever you want on that whole wheat tortilla!
17. Frozen breakfast quesadillas
Healthy quesadillas are incredible but ones that are so easy to freeze and save for later make this a total breakfast win.
18. Vegan breakfast sandwich
A completely guilt-free sandwich for non-meat eaters that's delicious even for non-Vegans as well.
19. Mixed berry & yogurt parfait
The parfait is an oldie but a goodie!
20. PB&J: Yogurt edition
The joys of the PB&J minus the sandwich carbs!
21. Refried beans & avocado on toast
If you've never put avocado on your toast before, allow yourself to enter new realms of yet undiscovered pleasure.
22. Chia seed pudding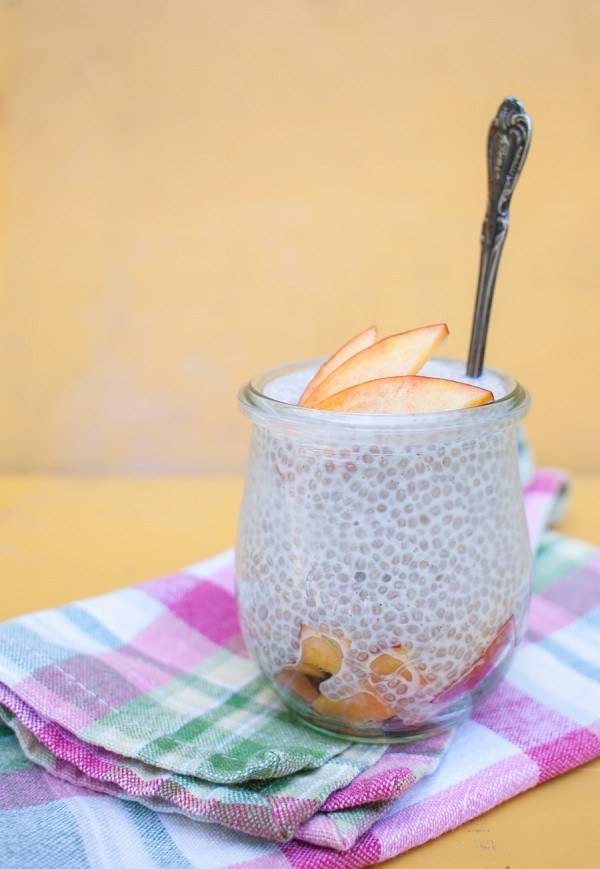 In terms of health boosters, chia seeds are a serious power ingredient. This pudding is super easy to make and delicious to eat.
23. Chocolate peanut butter breakfast bars
Who needs nasty protein shakes when you can jam this much protein into a delicious bar?
24. Kimchi & egg toast
If you're not having Kimchi for breakfast you're probably doing it wrong.
25. Bacon egg & cheese sandwich
All the good things about a bacon egg and cheese but with some far healthier supplements.
26. Avocado smoothie
Because avocados. Seriously.
27. Four ingredient banana oat bars
You won't believe how quick these are to make, so even if you don't have time to whip them up the night before, you can probably squeeze these into your morning routine.
28. Recovery mode green monster
Kale smoothies are great for reintroducing yourself to a healthy diet... after a night or two of lapsing from it.
✕
Do not show me this again