49 Women Who Have Absolutely Changed The World. #5 Is My Hero
by N/A, 9 years ago |
2 min read
|

311
The sufferage movement may be over but feminism is still alive and strong today. It has taken a new shape, and new faces are the head of this inspiring movement. Here are some women who are leading the charge, inspiring women all over the world to be themselves, and be PROUD to be women.
---
1. Tina Fey
She created and starred in 30 Rock, was the main creator and writer of Mean Girls and was SNL's first female head writer. Suck it, nerds!
2. Mindy Kaling
She created and starred in The Mindy Project, was one of the primary writers on The Office, is a published author and manages one of the most hilarious Twitter accounts on the Internet.
3. Christiane Amanpour
She's an integral part of the CNN news team and she was one of the first ever female reporters to cover a war zone.
4. Emma Watson
She started as Hermione Granger, then the Internet exploded when everyone realized how gorgeous she'd gotten. But instead of getting too conceited over this, she's managed to carve out a respectable career for herself and is now a UN Ambassador.
5. Aung San Suu Kyi
She fought for Myanmar to become a free nation, risked everything in her life in the name of political dissent and was the winner of the 1991 Nobel Peace Prize...and it was well deserved!
4. Beyoncé Knowles-Carter
Oh, Queen B. Besides the fact that she has absolutely killed the music industry, and the fact that she's the ONLY woman in the world who could be married to Jay-Z without standing in his shadow, she has started to use her music as a form of activism and has really raised her voice in the fight for female empowerment.
7. Melissa McCarthy
If you missed her performance in Bridesmaids, you need to go watch it IMMEDIATELY. She also wrote, produced and starred in the film Tammy, like a boss.
8. Ruth Bader Ginsburg
It's hard to get more badass than being the second female Supreme Court Justice.
9. Emma Thompson
She is an absolutely brilliant actress, doing everything from heart-wrenching dramatic roles to hilarious comedic ones. She's a writer and creator as well. She really just can't be stopped.
10. Laverne Cox
She absolutely kills it as Sophia Burset on Orange is the New Black. She was the first trans person nominated for an Emmy and she's just an incredible activist for the trans movement, to boot.
11. Tavi Gevinson
She is the Editor-in-Chief of Rookie Mag, an incredible confidence-promoting publication...plus she had an awesome cameo in Parenthood.
12. Angela Merkel
She was the first ever female Chancellor of Germany.
13. Veronica Roth
You probably haven't heard any one talk about ANY books other than the Divergent series over the last couple of months, and that's all because of this incredible author. Oh, and she wrote them at age 22.
14. Oprah Winfrey
She absolutely DOMINATED the talk show world for 25 years, and is one of America's most notable philanthropists.
15. J.K. Rowling
She wrote arguably the most influential fantasy series of the last several decades when she penned Harry Potter. Plus she, too, is an incredible philanthropist.
16. Emma Stone
She's a phenomenal (and hilarious) actress who has taken to using paparazzi encounters as opportunities to promote good-doing organizations.
17. Nicki Minaj
The rapper/singer has become a hugely successful female in a musical niche where few have been able to do so before her.
18. Lena Dunham
Few shows have blown up in the last few years the way that Girls has, and this young female writer is the one to thank for that.
19. Janelle Monáe
Her music is INCREDIBLE, and so is her attitude. She is a beacon of talent and uniqueness.
20. Angelina Jolie
Her acting career is impressive on its own, but even more impressive is her philanthropic career, as well as her global advocacy for human rights.
21. Marissa Mayer
She is the CEO of Yahoo!, a former Google exec and a spokeswoman for women in tech everywhere.
22. Barbara Walters
A shocking percentage of broadcast journalism's most important interviews conducted in the last 20 years were conducted by this woman. She is a true pioneer in terms of female journalists.
23. Jenji Kohan
Between Weeds and Orange is the New Black, this woman pretty much dominates the field of television that highlights complex, interesting female characters.
24. Margaret Cho
It is not the easiest thing in the world to be a hilarious and successful female stand-up comedian, but this woman has achieved it. And in case she needed to prove to you even more how awesome she was, she starred in the first ever primetime show about an Asian-American family.
25. Venus Williams 26. Serena Williams
These two badass ladies have won a combined total of 24 grand slam titles.
27. Shonda Rhimes
She helped create Grey's Anatomy and Scandal. She's had a hand in the upcoming show How To Get Away With Murder, and if her track record is any indication, it will probably be a HUGE hit.
28. Nora Ephron
NO ONE writes a romantic comedy like this woman did. The incredible effect she had on the film industry will never be forgotten.
29. Lorde
Lorde burst onto the music scene with her song "Royals" in a pretty astounding way. The song called out how unfair the music industry was and how difficult it was to try to be a star when you're not born into the lifestyle
30. Diane Von Furstenberg
She created an entire designer label from the ground up and invented the wrap dress...THANK YOU!
31. Amy Poehler
There are few consistently funnier women in television and film right now. She's a writer, actress, and general comedic powerhouse. Plus her and Tina Fey's best friendship is just everything.
32. Maya Angelou
This woman may be one of the most influential poets in modern history. Her ability to advocate for human rights through her written word is unparalleled.
33. Ellen DeGeneres
Ellen came out on national television and from there became one of the most outspoken LGBTQ advocates of this generation. On top of that, her show is SO fun and wonderful.
34. Meryl Streep
In case you didn't realize already how incredible Meryl Streep's acting is, try this on for size: She has been nominated for more Academy Awards than ANY other actor, male or female.
35. Michelle Obama
She could have just been a gorgeous first lady with incredible taste, but no...she went and created the "Let's Move!" campaign to help fight childhood obesity.
36. Ellen Page
Not only can the girl act her way out of a paper box, but she's become a strong and outspoken activist for the LGBTQ community, as well.
37. Sheryl Sandberg
She's the COO of Facebook...maybe you've heard of it? It's this pretty popular social networking site.
38. Barbara Streisand
For that absolutely incredible voice and, of course, being a freaking EGOT winner.
39. Janet Mock
If you haven't read Redefining Realness: My Path to Womanhood, go read it right this instant. This woman's voice is a beautiful vehicle for the trans movement.
40. Kristen Wiig
She owns the screen in just about every skit she's in for Saturday Night Live and, of course, writing the absolute comedic gold mine that is Bridesmaids.
41. Adele
As if her INCREDIBLE voice isn't enough, Adele is also a hoot and hilarious interviewee.
42. Sophia Amoruso
She is the CEO of Nasty Gal, which is pretty much dominating the world of online shopping. The title of her book #GIRLBOSS pretty much says it all.
43. Taylor Swift
If you haven't heard a Taylor Swift song you must have been living under a rock the last five years. She has absolutely KILLED the music industry and is promoting music education (awesome) in the process.
44. Diane Sawyer
Every female broadcast journalist owes a tip of the hat to Diane Sawyer. As the first female correspondent on 60 Minutes she is an absolute trailblazer.
45. Julia Louis-Dreyfus
She was one of the youngest female cast members on Saturday Night Live, and her character Elaine was one of the most brilliant female comedic characters in sitcom history. She's now killing it on Veep and just continues to be funny all over the place.
46. Hillary Rodham Cinton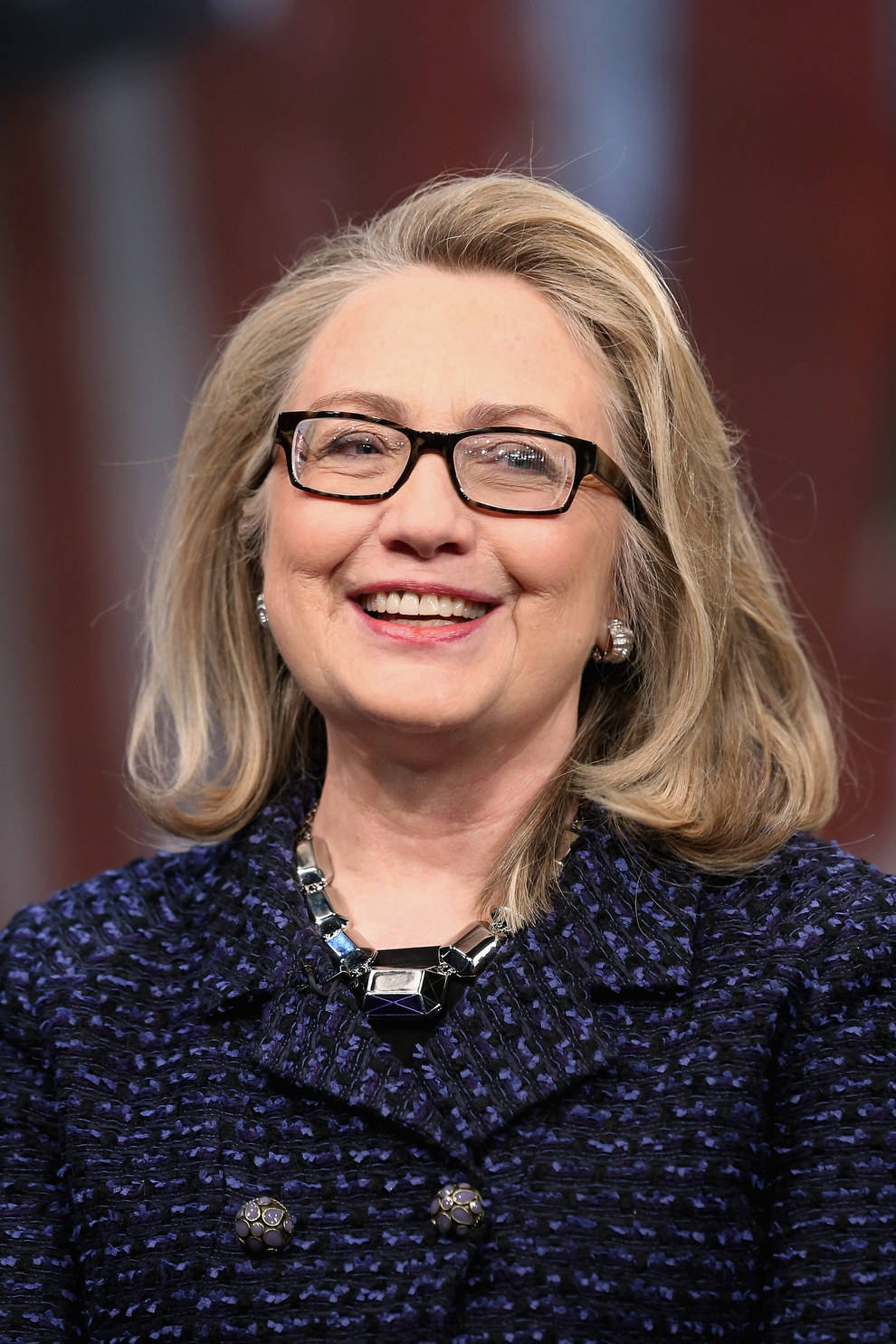 She traveled to 112 different countries as Secretary of State which is more than any other Secretary of State has done. She was the Senator of New York. She's a published author. What CAN'T she do!?
47. Chimamanda Ngozi Adichie
She is a true feminist, and her speeches on the topic are legendary. She's also written some incredible novels (see Americanah and Half of a Yellow Sun) and she was sampled on one of Beyonce's most recent songs...yes, please!
48. Kerry Washington
She's gorgeous, she's talented and she's a global activist for women's rights. All around awesome.
49. Zooey Deschanel
Apart from being one of the most lovable actresses on television or film, she is also the co-founder of HelloGiggles, and an outspoken promoter of ALL kinds of feminism and femininity.
✕
Do not show me this again