These 29 Amazing Pics Of Mars Will Make You Believe In Life On Other Planets
by N/A, 9 years ago |
3 min read
|

1530
In recent years, NASA has set its sights on Mars.
Considering it is our closest planetary neighbor, it's amazing how little we here on Earth still don't know about this big red figure floating around in space.
With the advancements in technology, however, and the efforts of so many brilliant people, we've been able to slowly but surely see a little more of the mysterious planet. These photos will open your mind to the universe that lies beyond Earth's surface.
---
The Gale Crater, in all of its glory.
Mineral deposits that sort of look like awesome pillows.
Ice inside of a crater.
A mysterious dune catching the light around it.
Storm's a-brewing.
Some snaking bluffs.
Just a beautiful web of Mars dust.
The light shining from the lower half of this photo is being emitted from Earth.
Did you leave your lights on last night?
Don't be fooled, this isn't the Grand Canyon!
Beautiful dune patterns.
Dunes on dunes on dunes!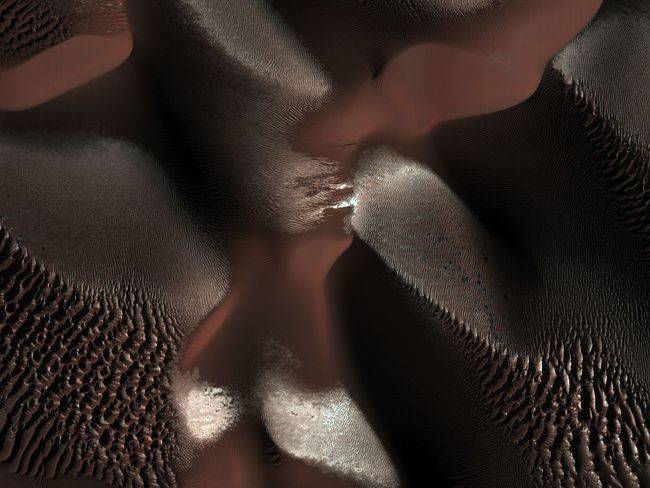 Ridin' through the desert on a horse with no name.
Just kidding, there are no horses on Mars. Yet.
Note just how light the sky is.
An avalanche happening right before the camera.
Dry ice as it forms intricate crater patterns.
A mysterious little wisp of dust, making moves.
The South Pole
Liquid water flowing on the surface.
Life in the shadows.
Beautiful patterns of an unknown substance...
It's not chocolate...but wouldn't that be amazing if it were!?
This crater is absolutely tremendous.
A brand new, fresh crater.
A little dust bunny, hoppin' around Mars.
Dry Ice Peaks.
Duneception!
The loneliest crater...
So this is what a jellyfish alien must look like.
A sunset that is truly out of this world.
✕
Do not show me this again