The Feds Just Found $20 Million Hidden Under A Mattress
by diamond_brown, 6 years ago |
2 min read
---
This isn't a Mark Wahlberg movie — it's real life.
Picture federal agents bursting into a bedroom, finding a crap-load of money hiding under a mattress. No, it's not a scene from Mark Wahlberg's next film — it's real life. The US Attorney's Office of Massachusetts recently tweeted a picture of $20 million in cash found in the box spring of a Brazilian national. Homeland Security was investigating Cleber Rene Rizerio Rocha on suspicion of money laundering when agents found the cash in his bedroom.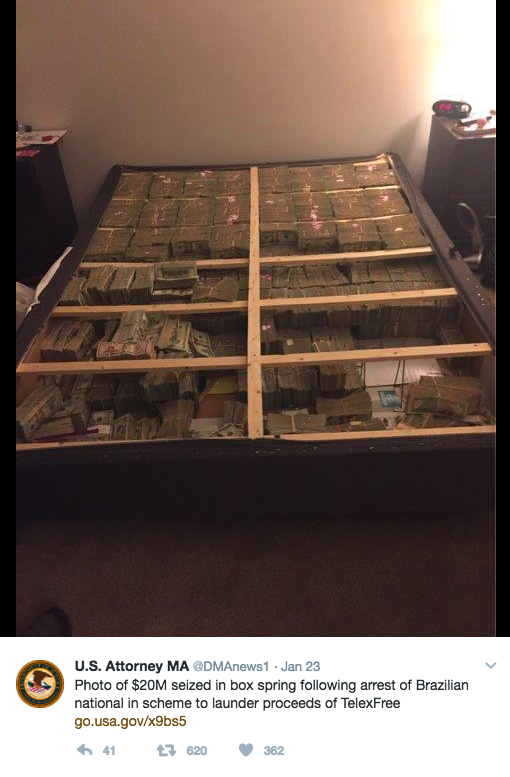 It's probably the closest we'll ever get to seeing $20 million worth of 20-, 50- and 100-dollar bills. And, of course, it's all illegal. Rocha, 27, faces jail time for his involvement in a massive pyramid scheme masked by a company called TelexFree. The company tricked people into paying a $1,425 fee to act as recruiters for the voice-over-internet phone service. As
NPR
reported, TelexFree "took in millions of dollars from people signing up to receive financial bonuses from advertising and recruiting." The money went into the pockets of company heads and nearly 1 million people worldwide lost money. One leader of the scam pleaded guilty, while another retreated to Brazil. The investigation is ongoing, but we're hoping Mark Wahlberg is frantically drafting up a script based on this drama.
✕
Do not show me this again